MMIG46 co-branded fueling card
TO ALL JET A1 CONSUMER
With the MMIG46 co-branded fueling card all our members get a significant cost saving.
The MMIG46 UVair Fuel Card will provide members discounts averaging 2-4 cents per liter beyond the already
discounted UVair fuel price.
This is more than an indirect pay back of your MMIG46 annual members fee.
The VAT-exempt and VAT compliant fuel invoicing is available in 18 EU countries. To qualify for the
exemption operators must meet certain criteria. Invoicing is handled and billed through UVair European
Fuelling Services Limited. The following link will take you to our VAT overview… it will outline our process
you. http://www.uvair.com/aviation-fuel-card/VAT-fuel-purchases/
For that paper work the UVair team will be happy to assist.
Other members will find the UVair card to be a gateway to an array of aviation services provided by Universal
Weather and Aviation.
For these members we would like to offer additional discounts on the following products.

• Free 30 day trial to UVflightplanner.com, Universal's on-line flight planning and weather system
• 20% savings on new monthly or annual subscriptions to UVflightplanner.com once trial has ended.
• 10% unit pricing discount on Universal trip support services (permit & slot facilitation, ground handling, hotels, etc.)

For existing UVair card holders that belong to the MMIG46 they will be able to upgrade their
current cards to receive the MMIG46 guaranteed price.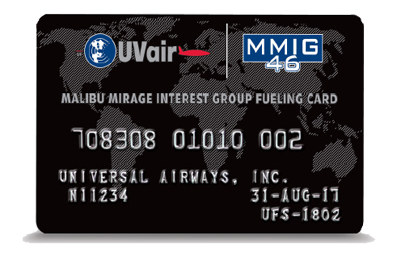 Bitte melden Sie sich im Forum an, um diesen Anmelde-Link zu verwenden Hier klicken
Please log in to the bulletin board before using this function Click here
S'il vous plaît connectez-vous sur le forum à cette fonction klik ici